So I just finished a fabulous workout and I decided to wind down for a few minutes in the sauna afterwards. I switch out of my sneakers and into my flip flops, grab a towel to sit on and go stroll over to what promises to be a nice, relaxing 10 minutes.
Shoot. There's someone else in there. I kind of love it when I'm the only one in there, but oh well. We can relax together.
So I settle in on my towel and close my eyes. Ahhh... the cedar smell, the crackling of the stones, the warmth letting all the stress of the day lift out of me...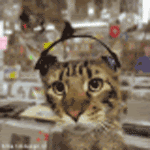 ...and
apple bottom jeans, boots with fur, the whole club was looking at her
...
That freaking girl has her headphones on blast! Are you kidding me?
If I was wearing panties under these spandex workout shorts, they be all in a bunch over this.
All of the sudden, I can't relax. The cedar smell is gone, the stones aren't crackling and the heat is just making me sweat.
All I hear is that stupid song.
Oh, and did I mention that she's doing half her workout in there, too? I thought about farting just to clear her out of there, but didn't. Probably should have.